Related: June 2015,
Annenberg School for Communication, Univ. of Pennsylvania: The Tradeoff Fallacy: How Marketers Are Misrepresenting American Consumers and Opening Them Up to Exploitation (PDF)
---
http://www.nytimes.com/2015/06/05/technology/consumers-conflicted-over-data-mining-policies-report-finds.html
JUNE 4, 2015
Sharing Data, but Not Happily
By NATASHA SINGER Should consumers be able to control how companies collect and use their personal data? At a dinner honoring privacy advocates this week in Washington, Timothy D. Cook, the chief executive of Apple, gave a speech in which he endorsed this simple idea. Yet his argument leveled a direct challenge to the premise behind much of the Internet industry -- the proposition that people blithely cede their digital bread crumbs to companies in exchange for free or reduced-priced services subsidized by advertising. "You might like these so-called free services," Mr. Cook said [1] during the event held by EPIC, a nonprofit research center. "But we don't think they're worth having your email or your search history or now even your family photos data-mined and sold off for God knows what advertising purpose." Now a study from the Annenberg School for Communication at the University of Pennsylvania has come to a similar conclusion: Many Americans do not think the trade-off of their data for personalized services, giveaways or discounts is a fair deal either. The findings are likely to fuel the debate among tech executives and federal regulators over whether companies should give consumers more control over the information collected about them. In the survey, which is scheduled to be made public on Friday, [2] 55 percent of respondents disagreed or strongly disagreed that "it's O.K. if a store where I shop uses information it has about me to create a picture of me that improves the services they provide for me." About seven in 10 people also disagreed that it was fair for a store to monitor their online activities in exchange for free Wi-Fi while at the store. And 91 percent of respondents disagreed that it was fair for companies to collect information about them without their knowledge in exchange for a discount. "Companies are saying that people give up their data because they understand they are getting something for those data," said Joseph Turow, a professor at Penn's Annenberg School for Communication and the lead author of the study. "But what is really going on is a sense of resignation. Americans feel that they have no control over what companies do with their information or how they collect it." The report on consumers' attitudes to commercial surveillance comes at a pivotal moment for online marketers and advertisers. Companies are scrambling to develop new techniques to influence people who increasingly use mobile devices to shop, bank and socialize. Yet, even as millions of people embrace these data-driven services, many are mistrustful of the kinds of inferences that companies might make based on information gathered about them. Some marketing companies, for instance, segment individuals into clusters like "low-income elders" [3] or "small town, shallow pockets" or categorize them by waistband size. The potential risk of inferior treatment is one reason that an increasing number of Internet users are downloading Ghostery, a free plug-in [4] that allows consumers to see and control online tracking by data brokers, advertising networks and other third parties. Consumers will share information with sites they trust because they want to get personalized ads and content, said Scott Meyer, Ghostery's chief executive. "But they will turn off the tracking technology if they are looking up painkillers for their mother because they don't want the Internet to think they are addicted to opiates." The conflicted feelings are hardly a new phenomenon. An article published 15 years ago in InformationWeek carried the headline: "Privacy Paradox: Consumers Want Control -- and Coupons." But the Penn survey concluded that many people are now resigned to having little say over how companies use and interpret their information. Among people who took part in the survey, 84 percent strongly or somewhat agreed that they wanted to have control over what marketers could learn about them; at the same time, 65 percent agreed that they had come to accept that they had little control over it. The randomized telephone survey of 1,506 adult American Internet users, conducted by Princeton Survey Research Associates International in February and March, has a margin of error of plus or minus 2.9 percent. Although he did not take the survey, Jeff Allen, a manager at a school yearbook company in the Atlanta area, is one of the reconciled.
Mr. Allen said he regularly used Uber, the ride-hailing app, on business trips, fully cognizant that the service's drivers needed to know his whereabouts to pick him up. Yet he said he was troubled last week after he learned that Uber was updating its privacy policy [5] to explicitly allow the company to record the location of customers' devices even when they were not actively using the app. "I think it's none of their business where I am up until the moment when I elect to use their service," Mr. Allen said. Nevertheless, he said he planned to continue using Uber, at least for the moment, because he found it more convenient than taxis. "Data is being collected on you all the time," Mr. Allen observed. "You either don't have a clue about it, or you're resigned to the fact that this is the way it is in 2015." Companies that are more transparent about why they collect certain customer details and how they use them may find it easier to maintain customer trust. Certainly, millions of people have signed up for store loyalty cards and frequent-flier programs that offer deals or upgrades based on consumers' purchases. And for the many people who relish personalized services, the idea that Amazon, Facebook, Google Maps or Pandora may remember and learn from their preferences represents an advantage, not a problem. "People are always willing to trade privacy and information when they see the direct value of sharing that information," said Mike Zaneis, the chief counsel for the Interactive Advertising Bureau, an industry group in Washington. But the Penn researchers found that many consumers may not fully comprehend the data-mining practices that occur when they use sites and apps. For instance, 58 percent of survey respondents wrongly believed that when a website had a privacy policy, it meant that the site would not share their information without their permission. The more concrete situations the survey described, the more likely people were to reject deals. For instance, 43 percent of respondents said they would accept a discount if the supermarket where they shopped kept detailed records of their purchases. But only 19 percent said they would accept discounts if the supermarket could use their purchasing history to make assumptions about their race or ethnicity. Fatemeh Khatibloo, an analyst at Forrester Research, describes consumers' experience with sophisticated data-mining systems as "frog-in-the-caldron syndrome." "You start off by putting the frog in tepid water," Ms. Khatibloo said, "and then you raise the temperature so the frog doesn't realize it's cooking." Like Mr. Cook of Apple, she contends that companies that offer consumers more control over and insight into how their information is used may differentiate themselves from their competitors. But many companies behave more like Uber. The company's new privacy policy, scheduled to take effect on July 15, says that if customers permit the Uber app to connect to location data, the app may collect the precise locations of their devices whether the app is running in the foreground or the background. Whether or not customers turn on that permission, the app still may deduce their general location based on other signals from their devices. And, if consumers use the ride-hailing app on or after that date, the company will conclude that they have read and agreed to the terms, Uber said in a recent email to customers. In other words, Uber customers may resign themselves to having their data extracted -- or forgo the service altogether.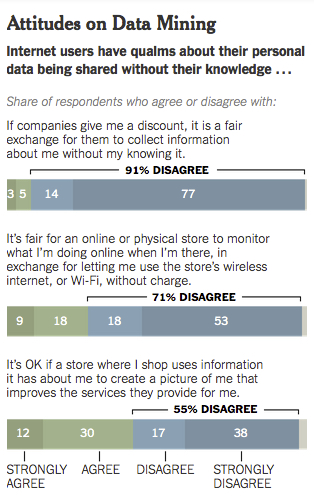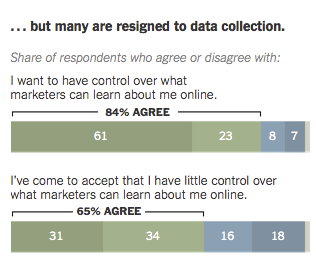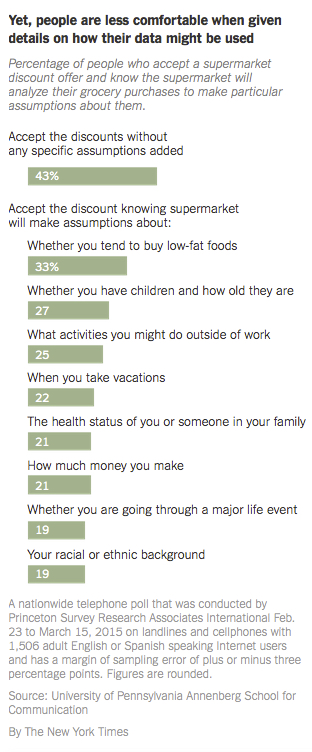 [1]
http://techcrunch.com/2015/06/02/apples-tim-cook-delivers-blistering-speech-on-encryption-privacy/
[2]
https://www.asc.upenn.edu/sites/default/files/TradeoffFallacy_1.pdf
[3]
http://www.experian.com/assets/marketing-services/brochures/mosaic-brochure-october-2014.pdf
[4]
https://www.ghostery.com/en/about
[5]
https://www.uber.com/legal/privacy-proposed/users/en