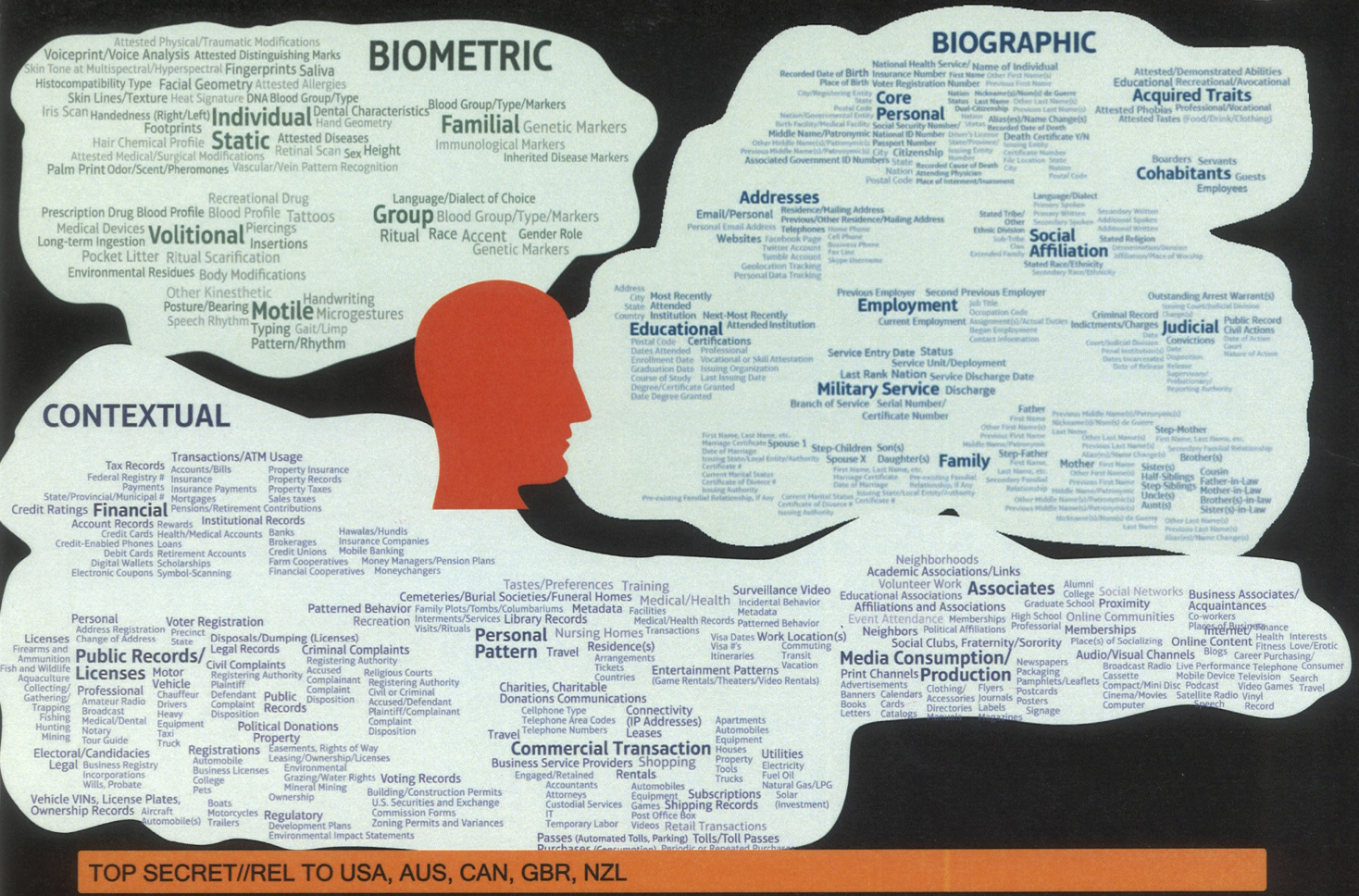 10 June 2014
NSA Identity Intelligence Data Fields
On 1 June the
New York Times
published an article on the NSA's recent facial recognition technology efforts, based on documents given to Laura Poitras by Edward Snowden last year. Included were excerpts of an NSA slide presentation on "identity intelligence," one slide showing an extensive list of types of data about an individual that can be gathered from public records, data brokers and social media, or by law enforcement or intelligence authorities, and which NSA analysts work to combine with intercepted facial images "to develop comprehensive portraits of intelligence targets."
Below is a transcription of the list.
Excerpted from: National Security Agency,
Identity Intelligence: Image is Everything
, Undated. Via James Risen, Laura Poitras, "
N.S.A. Collecting Millions of Faces From Web Images
,"
NYT
, 1 June 2014.
BIOMETRIC
Individual Static
Sex
Height
Fingerprints
Palm Print
Footprints
Facial Geometry
Dental Characteristics
Voiceprint/Voice Analysis
Saliva
DNA
Blood Group/Type
Hair
Skin Lines/Texture
Iris Scan
Retinal Scan
Chemical Profile
Handedness (Left/Right)
Hand Geometry
Odor/Scent/Pheromones
Vascular/Vein Pattern Recognition
Heat Signature
Skin Tone at Multispectral/Hyperspectral
Attested Physical/Traumatic Modifications
Attested Medical/Surgical Modifications
Attested Allergies
Familial
Genetic Markers
Blood Group/Type/Markers
Immunological Markers
Inherited Disease Markers
Group
Race
Accent
Ritual
Genetic Markers
Blood Group/Type/Markers
Language/Dialect of Choice
Gender Role
Volitional
Body Modifications
Ritual Scarification
Tattoos
Piercings
Insertions
Long-term Ingestion
Pocket Litter
Medical Devices
Prescription Drug Blood Profile
Recreational Drug Blood Profile
Environmental Residues
Motile
Handwriting
Gait/Limp
Posture/Bearing
Microgestures
Typing Pattern/Rhythm
Speech Rhythm
Other Kinesthetic
BIOGRAPHIC
Core Personal
Name of Individual First Name
Other First Name(s)
Previous First Name(s)
Middle Name/Patronymic
Other Middle Name(s)/Patronymic(s)
Previous Middle Name(s)/Patronymic(s)
Last Name
Other Last Name(s)
Previous Last Name(s)
Nickname(s)/Nom(s) de Guerre
Alias(es)/Name Change(s) Recorded Date of Birth Place of Birth City/Registering Entity
State
Postal Code
Nation/Government Entity
Birth Facility/Medical Facility Citizenship
City
State
Nation
Postal Code
Nation Status
Dual-Citizenship
Nation Status
Associated Government ID Numbers Social Security Number/National ID Number
National Health Service/Insurance Number
Passport Number
Voter Registration Number
Driver's License
State/Province/Issuing Entity
Number
Death Certificate Y/N
Issuing Entity
Certificate Number
File Location
City
State
Nation
Postal Code
Recorded Date of Death
Recorded Cause of Death
Attending Physician
Place of Interment/Inurnment
Addresses
Residence/Mailing Address
Previous/Other Residence/Mailing Address
Telephones
Home Phone
Cell Phone
Business Phone
Fax Line
Skype Username
Personal Email Address
[Business Email Address]
Websites
[Personal Website]
[Business Website]
Facebook Page
Twitter Account
Tumblr Account
Geolocation Tracking
Personal Data Tracking
Educational
Most Recently Attended Institution
Address
City
State
Country
Postal Code
Dates Attended
Enrollment Date
Graduation Date
Course of Study
Degree/Certificate Granted
Date Degree Granted
Next-Most Recently Attended Institution
Certifications
Professional
Vocational or Skill Attestation
Issuing Organization
Last Issuing Date
Employment
Current Employment
Job Title
Occupation Code
Assignment(s)/Actual Duties
Began Employment
Contact Information
Previous Employer
Second Previous Employer
Military Service
Nation
Status
Branch of Service
Serial Number/Certificate Number
Service Entry Date
Service Unit/Deployment
Last Rank
Discharge
Service Discharge Date
Family
Father
First Name
Other First Name(s)
Previous First Name
Middle Name/Patronymic
Previous Middle Name(s)/Patronymic(s)
Last Name
Other Last Name(s)
Previous Last Name(s)
Alias(es)/Name Change(s)
Mother
First Name
Other First Name(s)
Previous First Name
Middle Name/Patronymic
Previous Middle Name(s)/Patronymic(s)
Last Name
Other Last Name(s)
Previous Last Name(s)
Alias(es)/Name Change(s)
Step-Father
First Name
Other First Name(s)
Previous First Name
Middle Name/Patronymic
Previous Middle Name(s)/Patronymic(s)
Last Name
Other Last Name(s)
Previous Last Name(s)
Alias(es)/Name Change(s)
Step-Mother
First Name
Other First Name(s)
Previous First Name
Middle Name/Patronymic
Previous Middle Name(s)/Patronymic(s)
Last Name
Other Last Name(s)
Previous Last Name(s)
Alias(es)/Name Change(s)
Brother(s)
First Name
Other First Name(s)
Previous First Name
Middle Name/Patronymic
Previous Middle Name(s)/Patronymic(s)
Last Name
Other Last Name(s)
Previous Last Name(s)
Alias(es)/Name Change(s)
Sister(s)
First Name
Other First Name(s)
Previous First Name
Middle Name/Patronymic
Previous Middle Name(s)/Patronymic(s)
Last Name
Other Last Name(s)
Previous Last Name(s)
Alias(es)/Name Change(s)
Half-Sibling(s)
First Name
Other First Name(s)
Previous First Name
Middle Name/Patronymic
Previous Middle Name(s)/Patronymic(s)
Last Name
Other Last Name(s)
Previous Last Name(s)
Alias(es)/Name Change(s)
Step-Sibling(s)
First Name
Other First Name(s)
Previous First Name
Middle Name/Patronymic
Previous Middle Name(s)/Patronymic(s)
Last Name
Other Last Name(s)
Previous Last Name(s)
Alias(es)/Name Change(s)
Uncle(s)
First Name
Other First Name(s)
Previous First Name
Middle Name/Patronymic
Previous Middle Name(s)/Patronymic(s)
Last Name
Other Last Name(s)
Previous Last Name(s)
Alias(es)/Name Change(s)
Aunt(s)
First Name
Other First Name(s)
Previous First Name
Middle Name/Patronymic
Previous Middle Name(s)/Patronymic(s)
Last Name
Other Last Name(s)
Previous Last Name(s)
Alias(es)/Name Change(s)
Cousin(s)
First Name
Other First Name(s)
Previous First Name
Middle Name/Patronymic
Previous Middle Name(s)/Patronymic(s)
Last Name
Other Last Name(s)
Previous Last Name(s)
Alias(es)/Name Change(s)
Father-in-Law
First Name
Other First Name(s)
Previous First Name
Middle Name/Patronymic
Previous Middle Name(s)/Patronymic(s)
Last Name
Other Last Name(s)
Previous Last Name(s)
Alias(es)/Name Change(s)
Mother-in-Law
First Name
Other First Name(s)
Previous First Name
Middle Name/Patronymic
Previous Middle Name(s)/Patronymic(s)
Last Name
Other Last Name(s)
Previous Last Name(s)
Alias(es)/Name Change(s)
Brother(s)-in-Law
First Name
Other First Name(s)
Previous First Name
Middle Name/Patronymic
Previous Middle Name(s)/Patronymic(s)
Last Name
Other Last Name(s)
Previous Last Name(s)
Alias(es)/Name Change(s)
Sister(s)-in-Law
First Name
Other First Name(s)
Previous First Name
Middle Name/Patronymic
Previous Middle Name(s)/Patronymic(s)
Last Name
Other Last Name(s)
Previous Last Name(s)
Alias(es)/Name Change(s)
Spouse 1
First Name
Other First Name(s)
Previous First Name
Middle Name/Patronymic
Previous Middle Name(s)/Patronymic(s)
Last Name
Other Last Name(s)
Previous Last Name(s)
Alias(es)/Name Change(s)
Marriage Certificate
Date of Marriage
Issuing State/Local Entity/Authority
Certificate Number
Current Marital Status
Certificate of Divorce Number
Issuing Authority
Pre-existing Familial Relationship, If Any
Spouse X
First Name
Other First Name(s)
Previous First Name
Middle Name/Patronymic
Previous Middle Name(s)/Patronymic(s)
Last Name
Other Last Name(s)
Previous Last Name(s)
Alias(es)/Name Change(s)
Marriage Certificate
Date of Marriage
Issuing State/Local Entity/Authority
Certificate Number
Current Marital Status
Certificate of Divorce Number
Issuing Authority
Pre-existing Familial Relationship, If Any Son(s)
First Name
Other First Name(s)
Previous First Name
Middle Name/Patronymic
Previous Middle Name(s)/Patronymic(s)
Last Name
Other Last Name(s)
Previous Last Name(s)
Alias(es)/Name Change(s)
Daughter(s)
First Name
Other First Name(s)
Previous First Name
Middle Name/Patronymic
Previous Middle Name(s)/Patronymic(s)
Last Name
Other Last Name(s)
Previous Last Name(s)
Alias(es)/Name Change(s)
Step-Children
First Name
Other First Name(s)
Previous First Name
Middle Name/Patronymic
Previous Middle Name(s)/Patronymic(s)
Last Name
Other Last Name(s)
Previous Last Name(s)
Alias(es)/Name Change(s)
Judicial
Criminal Record
Outstanding Arrest Warrant(s)
Issuing Court/Judicial Division
Charge(s)
Indictments/Charges
Date
Court/Judicial Division
Penal Institution(s)
Dates Incarcerated
Date of Release
Convictions
Date
Disposition
Release
Supervisory/Probationary/Reporting Authority
Public Record
Civil Actions
Date of Action
Court
Nature of Action
Social Affiliation
Stated Race/Ethnicity
Secondary Race/Ethnicity
Stated Tribe/Other Ethnic Division
Sub-Tribe
Clan
Extended Family
Language/Dialect
Primary Spoken
Primary Written
Secondary Spoken
Secondary Written
Additional Spoken
Additional Written
Stated Religion
Denomination/Dominion
Affiliation/Place of Worship
Cohabitants
Employees
Servants
Boarders
Guests
Acquired Traits
Attested/Demonstrated Abilities
Educational
Recreational/Avocational
Professional/Vocational
Attested Phobias
Attested Tastes
Food/Drink/Clothing
CONTEXTUAL
Financial
Tax Records
Federal Registry Number
Payments
State/Provincial/Municipal Number
Credit Ratings
Account Records
Credit Cards
Credit-Enabled Phones
Debit Cards
Digital Wallets
Electronic Coupons
Rewards
Health/Medical Accounts
Loans
Retirement Accounts
Scholarships
Symbol-Scanning
Transactions/ATM Usage
Accounts/Bills
Insurance
Insurance Payments
Mortgages
Pensions/Retirement Contributions
Property Insurance
Property Records
Property Taxes
Sales Taxes
Institutional Records
Banks
Brokerages
Credit Unions
Farm Cooperatives
Financial Cooperatives
Hawalas/Hundis
Insurance Companies
Mobile Banking
Money Managers/Pension Plans
Moneychangers
Public Records/Licenses
Personal
Address Registration
Change of Address
Voter Registation
Precinct
State
Motor Vehicle
Chauffer
Drivers
Heavy Equipment
Taxi
Truck
Licenses
Firearms and Ammunition
Fish and Wildlife
Aquaculture
Collecting/Gathering/Trapping
Fishing
Hunting
Mining
Disposals/Dumping
Professional
Amateur Radio
Broadcast
Medical/Dental
Notary
Tour Guide
Legal Records
Criminal Complaints
Registering Authority
Accused
Complainant
Complaint
Disposition
Religious Courts
Registering Authority
Civil or Criminal
Accused/Defendant
Plaintiff/Complainant
Complaint
Disposition
Civil Complaints
Registering Authority
Plaintiff
Defendant
Complaint
Disposition
Public Records
Property
Easements, Rights of Way
Leasing/Ownership/Licenses
Environmental
Grazing/Water Rights
Mineral Mining
Ownership
Registrations
Automobile
Business Licenses
College
Pets
Vehicles VINs, License Plates, Ownership Records
Aircraft
Automobile(s)
Boats
Motorcycles
Trailers
Voting Records
Political Donations
Electoral/Candidacies
Legal
Business Registry
Incorporations
Wills, Probate
Regulatory
Development Plans
Environmental Impact Statements
Building/Construction Permits
U.S. Securities and Exchange Commission Forms
Zoning Permits and Variances
Personal Pattern
Residence(s)
Work Location(s)
Commuting
Transit
Vacation
Travel
Arrangements
Tickets
Countries
Tastes/Preferences
Recreation
Medical/Health
Facilities
Medical/Health Records
Transactions
Training
Patterned Behavior
Entertainment Patterns
Game Rentals/Theaters/Video Rentals
Library Records
Metadata
Surveillance Video
Incidental Behavior
Metadata
Patterned Behavior
Nursing Homes
Cemeteries/Burial Societies/Funeral Homes
Family Plots/Tombs/Columbariums
Interments/Services
Visits/Rituals
Commercial Transaction
Business Service Providers
Engaged/Retained
Accountants
Attorneys
Custodial Services
IT
Temporary Labor
Shopping
Retail Transactions
Shipping Records
Subscriptions
Passes
Automated Tolls, Parking
Tolls/Toll Passes
Purchases (Consumption)
Periodic or Repeated Purchases
Rentals
Automobiles
Equipment
Games
Post Office Box
Videos
Leases
Apartments
Automobiles
Equipment
Houses
Property
Tools
Trucks
Utilities
Electricity
Fuel Oil
Natural Gas/LPG
Solar (Investment)
Travel
Charities, Charitable Donations
Communications
Cellphone Type
Telephone Area Codes
Telephone Numbers
Connectivity (IP Addresses)
Media Consumption/Production
Print Channels
Advertisements
Banners
Books
Letters
Calendars
Cards
Catalogs
Clothing/Accessories
Directories
Manuals
Flyers
Journals
Labels
Magazines
Newspapers
Packaging
Pamphlets/Leaflets
Postcards
Posters
Signage
Audio/Visual Channels
Broadcast Radio
Cassette
Compact/Mini Disc
Cinema/Movies
Computer
Live Performance
Mobile Device
Podcast
Satellite
Speech
Telephone
Television
Video Games
Vinyl Record
Internet/Online Content
Blogs
Career
Finance
Health
Fitness
Interests
Love/Erotic
Purchasing/Consumer
Search
Travel
Associates
Neighborhoods
Neighbors
Business Associates/Acquaintances
Co-workers
Places of Business
Academic Associations/Links
Alumni
College
Graduate School
High School
Professorial
Educational Associations
Affiliations and Associations
Memberships
Political Affiliations
Social Clubs, Fraternity/Sorority
Event Attendance
Memberships
Place(s) of Socializing
Proximity
Online Communities
Social Networks
[
Brackets indicate additions by Good Times
]