http://www.bloomberg.com/news/2014-05-27/israel-agrees-to-spend-half-of-iron-dome-funds-in-u-s-.html
Israel Agrees to Spend Half of Iron Dome Funds in U.S.
By Tony Capaccio 2014-05-28 The Israeli government has agreed to spend more than half the funds the Pentagon provides for its Iron Dome system in the U.S., bolstering the political appeal of the missile-defense system in America. Funds going to U.S. contractors for components of the Israeli-built, Pentagon-funded system will jump to 30 percent this year and 55 percent next year from 3 percent previously, according to a U.S. Missile Defense Agency report to Congress obtained by Bloomberg News. That amounts to at least $97 million of $176 million requested by the Defense Department for the coming fiscal year. Iron Dome is designed to intercept and destroy rockets capable of flying as far as 70 kilometers (44 miles). It gained international attention in 2012, when Israeli and U.S. officials said the system intercepted about 400 rockets fired at Israel, or about 85 percent of those targeted as heading toward populated areas during eight days of fighting between Israel and the militant Islamic Hamas movement that controls the Gaza Strip. While that performance bolstered Iron Dome's popularity in the U.S. as a way to aid the nation's closest ally in the Mideast, lawmakers have been pushing for more of the Defense Department's funds for the program to be spent on American contractors in a time of declining defense spending. "Under this agreement, the United States focus shifts toward maximizing economic activity in the United States while ensuring that Israel's security needs are met," the missile defense agency said in the April 2 report. "This new agreement strikes a better balance for both parties and should serve as a model for the future."
Raytheon's Role
Raytheon Co. (RTN), based in Waltham, Massachusetts, is under contract with Iron Dome's Israeli maker, Haifa-based Rafael Advanced Defense Systems Ltd., to find suitable U.S. suppliers, the Missile Defense Agency said in the report. Raytheon is the fourth-largest federal contractor and the world's biggest missile maker. The agreement "provides for significant United States co-production of Iron Dome components and interceptors in the United States," according to the report. Israel has fielded the first five batteries of launchers and interceptors costing as much as $90,000 apiece, according to the nonpartisan Congressional Research Service. Congress has approved $703 million since 2011 for Israel to spend on Iron Dome.
Congressional Action
"Given the significant U.S. taxpayer investment in this system, the committee believes that co-production of parts and components should be done in a manner that will maximize U.S. industry participation," the House Armed Services Committee said in its report on the defense authorization measure for the fiscal year that begins Oct. 1. The committee added $175 million to the administration's request after Israel sought more money, according to the Missile Defense Agency report. The committee placed strings on spending the extra $175 million, including the submission of "signed and ratified contracts, subcontracts and teaming arrangements" with U.S. companies. The full House passed the defense policy bill May 22. The Senate Armed Services Committee last week approved the full amount, including the extra $175 million. "We anticipate the first contracts will be awarded later this year," and that "a significant portion of U.S. funding for Iron Dome will be allocated to U.S. contracts," Missile Defense Agency spokesman Richard Lehner said in an e-mailed statement.
U.S. Prices
Rafael spokesman Amit Zimmer didn't respond to an e-mail requesting comment. Raytheon spokesman Michael Doble had no comment. The agreement with Israel includes a provision allowing production of any part to revert to Rafael if its U.S. price exceeds what it would cost to make in Israel by five percent or more, according to the documents. "Raytheon believes there are very few components for which it couldn't meet this percent cost target," the Missile Defense Agency report said. The first contracts to be awarded by July will call for production of parts for Iron Dome's Tamir interceptor, including the incoming rocket seeker and fuse. To contact the reporter on this story: Tony Capaccio in Washington at acapaccio@bloomberg.net To contact the editors responsible for this story: John Walcott at jwalcott9@bloomberg.net Larry Liebert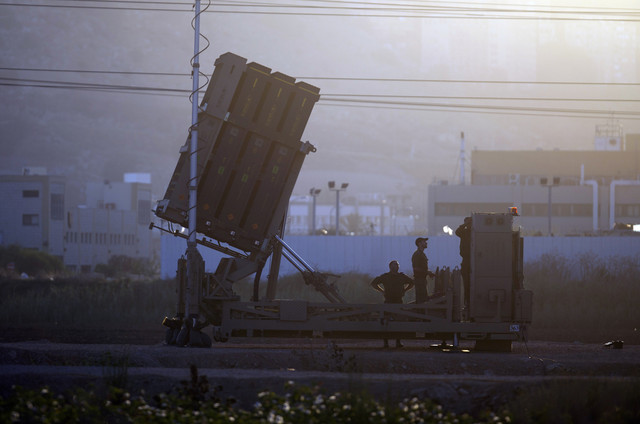 Ahmad Gharabli/AFP via Getty Images Israeli soldiers check an "Iron Dome" battery, a short-range missile defence system, designed to intercept and destroy incoming short-range rockets and artillery shells, positioned in an industrial area of Israel's northern coastal Mediterranean city of Haifa on Aug. 31, 2013.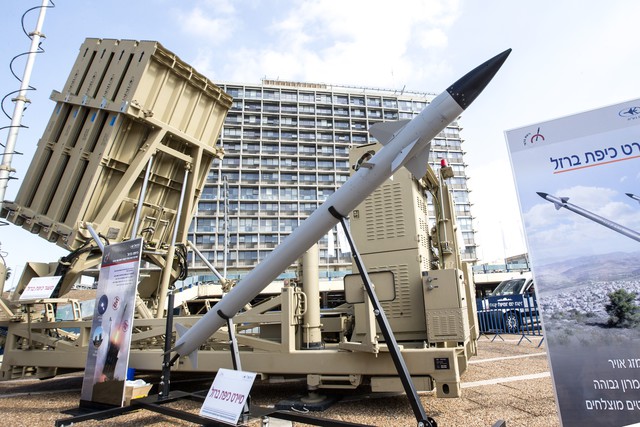 Jack Guez/AFP via Getty Images An Iron Dome short-range missile defence system is pictured at Rabin Square in Tel Aviv, during the " Israel Science Day on March 26, 2014.